---
How it all started
We first visited a John Denver concert in 1988 in our hometown The Hague. We were not fans when the concert started, but I believe we were when John walked away from the stage that night. After another concert not far from our home in 1990 (in Rotterdam, 30 km from our home), we decided we wanted to know much more about this man and his vision. In 1991 we had our first holiday with John Denver in the United Kingdom. We started with a concert in Edinburgh, and went on for concerts in Birmingham, London and Brighton. It became our favourite way of spending a holiday: some sightseeing and one or more John Denver concerts. The first question in mind when planning a holiday became 'where is John performing'. It brought us to Belgium and Germany in 1992, UK again in 1994 and twice to the USA (1995 and 1996). Of course we also visited Johns concerts in Holland everytime he visited us.
This year we choosed to go to Ireland for our first visit to that country, and toured for five days in the South-Eastern part. The weather was pretty good, the nature is beautiful and the people very friendly.
So, we ended up in Dublin to see our 20th John Denver concert on sunday, March 23rd. The concert was said to be started at 20.00 hrs, but we wanted to be early and arrived at 18.45. In many countries we would be the first in line, but not in Dublin. There was already a line formed and when the doors opened at seven we couldn't see the end of it anymore. We entered a big hal, and on the stage were three guitars and a piano. Slowly people entered their seats and 20 minutes after 8 all 7.000 seats were taken. John entered the stage.
The concert in Dublin
He entered the stage alone. We were up to a new type of concert, just John and his guitars. There were moments during the concert we did miss the band. It wasn't so long ago we were treated with the "Love Again" album and those arrangement were still fresh in our minds. Sure, John did everything he could to make them forget, he wistled on a few songs, he let the audience sing along, he was "ooh-ooh"-ing and "mmm"-ing a lot. But ofcourse there were moments we waited for the keyboard or the percussion, and it didn't came.
Did that mean this concert was any less than the concerts we've been to before? Absolutely not! Because John had the stage all to himself, he could be more relaxed than in his concerts with the band and he talked quite a lot. Sometimes before the songs, sometimes after, sometimes even during the song. It's very disarming when he is in the middle of a song and just stops to tell a story. The selection of songs was sometimes surprising. He had them all: the spiritual songs, country and western songs, songs about nature and many lovesongs. There were sad songs and funny songs. He sang some of his greatest hits, and quite some not-so-famous songs. Old songs and a few almost new songs.
"Hi", he said when he came up, and a loud "hi" came from the audience in return. Well, there seemed to be true John Denver fans in the audience. He started with a few songs we'd never heard before in concert: Eclipse and It Amazes Me. We were pleasantly surprised by an early Goodbye Again and Follow Me, since John hardly sung any love-songs the last few years. Then he continued with one of our very favourites Welcome To My Morning (Farewell Andromeda). He started with the Lalala'-part and just stopped in the middle, telling us that was our part to sing.
Then he gave us a definition of spring. He had heard it from his father, didn't know if it was accurate, but it rang a bell for him: It's when a young man's fantasy turns into what a young woman has been thinking of all winter. We all had to sing along with Today.
The part arrived where he sung some songs for children and about his own childhood. Catch Another Butterfly, For Baby (For Bobbie). He announced a Paul McCartney song, he corrected himself, a Sir Paul McCartney song. There was a short, polite applause from the audience. John got more response on his "Big deal" remark. I loved this version of Mother Natures Son. With his true remark that not all children will ever get what we take for granted, he sung another one of my very favourites I Want To Live, followed by Grandma's Feather Bed and a special version of Matthew, where he sung the last verse very, very slowly, in a speaking way.
We were so surprised by our next very favourite The Wings That Fly Us Home. It's such a beautiful song. Since Ireland is a land with many golf-players, he came with the first song of the evening which is not recorded yet, 18 holes. The lyrics are funny and the audience loved it. After singing a short version of Sunshine On My Shoulders (he left out the second verse) John told us to close the first part of the show with the most popular song of British motordrivers, Take Me Home, Country Roads. After the first verse he told us another story about the song, that the license-plates in West-Virginia now have the subscription "Almost Heaven". After the second verse he told us about the popularity of the song in China.
After this first part in which showed his spiritual and child-loving side, the second part was filled with Western and Love songs. It felt good, that John played so many love songs again. We missed them for a few years.
Home On The Range was followed by Ponies. He sings that one so beautiful. After I'd Rather Be A Cowboy (Lady's Chains) and Darcy Farrow he told us, that some people come to Aspen to get away from all the busy stuff, and that he sometimes has to go away from Aspen to do so. And at one of those occasions, he was in a cabin where he had a dream that came back and back again. The next morning he took his guitar and wrote Whispering Jesse. The Wild Montana Skies (they really are) ended his Western part of the show and he started his love-session with Dreamland Express. It was the other song he wistled at. He warned us that people might look strange at you when you start to sing that song just walking on the street or anywhere else. I'm Sorry was followed by his mothers favourite It's A Sin To Tell A Lie. We expected we would have to sing with John that song, but he completed the song on his own. It was time to do a song at the piano. We hoped he would do more than one, since all piano songs are among our very favourites. He stopped directly after Seasons Of The Heart.
The next songs he played with a recorded track. The Thought Of You. A few newer songs came along when he started with Is It Love?. Then he told us something about country songs. For instance what happens when you play a country song backwards. You get your house back, your dog back and your wife back. Sometimes you don't have to hear the song to know it's a country song. You can tell by the title. Like "How Can I Miss You When You Won't Leave". The one John recently wrote was called Get Your Tongue Out Of My Mouth (Because I'm Kissin' You Goodbye). He said it himself, it's a terrible song, but the audience loved it. Annie's Song and Rocky Mountain High closed the concert. It amazes me how one man can fascinate 7000 people all by himself for more than 2 hours (and all the time before and after that).
Well, there had to be an encore of course. We were treated with Song For All Lovers and Perhaps Love. Telling the audience he loved Ireland and that the Irish sing better with him than anyone else in the world, he left the stage.
The concert in The Hague

| | |
| --- | --- |
| | Although most of the songs in the Hague were the same as in Dublin, the two shows were completely different. The songs John didn't sing in The Hague were his most recents, 18 holes and Get Your Tongue Out Of My Mouth. In stead of those two he sung Rhymes And Reasons and Country Girl In Paris. Or Did he sang the last one in stead of The Thougth Of You? A song he also didn't sing. Maybe an interesting question, maybe not. |
Another change was a special request from our German friend Jochem, John sung Durango Mountain Caballero in stead of Ponies. In the encore A Song For All Lovers was skipped, John only sung Perhaps Love.

So, many songs the same, and still so much difference. I thought the part before the intermession (where we of course were invited to stick around for the second part) John was SUPERB. I had never heard John sung like this before. He was taking all the time he needed to express himself perfectly at songs like The Wings That Fly Us Home and I Want To Live. And then again, I felt in love with the song Matthew, I can hardly wait to hear this version on a CD. The meaning he's giving it by singing very slowly so that it almost sounds like a protest song:
Yes and joy was just a thing he was raised on ....
Love was just a way to live and die ...
Gold was just a windy Kansas wheatfield ...
Blue was just a Kansas summer sky
And what about Mother Nature's Son. After singing the first line John told us that he should have written that song. Well, it sounded so great and to me it is a JD-song. I never heard the version of the Beatles and I don't want to hear it ever.
Although still more than it would be the the next evening in Antwerp, John didn't tell as much as he did in Dublin. It must be hard for him to tell the stories that fans on the first rows already know from earlier concerts of the tour. The stories about Take Me Home, Country Roads for instance were skipped. In stead of that, he stopped after the very few notes, on which we started with approval hand-clapping and asked us just to sing along. Well, we did sing along.

The second part of the concert was just good, but not as brilliant as the first part. For me it started with the second song: Durango Mountain Caballero. John really seemed to have forgotten the words to this beautiful song, not just a slip of the moment. It looked like that frustrated him, because even in Seasons Of The Heart, more than half an hour later he got mixed up in the line 'Still I wouldn't try to blaim you'.

| | |
| --- | --- |
| Although John didn't tell so many stories, he did talk with the audience. Like when he told us he'd learn us a new love song. Dolly replied with 'We know it already'. John was very alert on that and said that not everyone in the audience knew it. So he played the first lines of Dreamland Express, and corrected himself with the remark that appearantly everyone knew the song after all. | |
John also wondered about Is It Love, whether it ever will be released. He said he thought it was a great song. We really feel that too, although we maybe didn't say that loud enough, since John also skipped this last new song from his songlist for the concert in Antwerp. However I think it's a song that shouldn't be sung with the track recording, since this is a perfect song to let the audience sing along.

After the concert John gave a short interview to the Dutch TV-station SBS-6. Thanks SBS-6 for broadcasting it!

| | |
| --- | --- |
| | John told how tired he was after working for 11 days in a row, that he still touring because he needs to make a living and because he loves to sing, but that he hates the traveling, the packing and the hotels. And it upset him, that because he was so tired, he couldn't give us the show that he wants us to give. Also that although he wished there would one, there will not be a new album to be released in the near future. |
We had noticed John looked very tired, but still we felt the first part of the show was one of the best we've ever seen.

The concert in Antwerp

The next we went up to Antwerp with our good friend Jerry Kooyman. Maybe you read on one of our other pages he sings for fun many songs of John and sometimes performs on his own. So he did in Antwerp in the Zoo, in the most important shopping street, and after the concert before the artists exit. Definite that last one was the most succesfull, some twenty JD fans were waiting to see a last glimp of John and did like Jerrys singing.

John had changed the show quite a lot. We sure liked the songs he hadn't sung before. He opened with Leaving On A Jetplane, and after It Amazes Me he continued with Looking For Space, which is a very favourite of ours. Then he returned to the Dublin program starting with Farewell Andromeda, and leaving 18 holes out. In stead he sang the full version of Sunshine On My Shoulders.
The second part started with the wonderful Love Is The Master, also a very favourite and continuing with I'd Rather Be A Cowboy (Ladies Chains) up to It's A Sin To Tell A Lie. Then John surprised us with another very favourite My Sweet Lady, he continued with on recorded tracking The Thought Of You and Country Girl in Paris. From there he ended with Annie's Song, Rocky Mountain High and Perhaps Love.

John did sing good, and we liked that he came up with some of our very favourites. And that's what is to say from us about the concert.

Why JOHN DENVER is afraid for love
by Henk van der Meyden, "De Telegraaf", april 4th 1997.

Singer is struggling with himself after divorces and alcohol-problem

JOHN DENVERS SONG 'COUNTRY ROADS' MAY BE CHOOSEN AS THE SONG WHICH CALMS DOWN DRIVERS IN A FILE, WHEN I SPEAK TO DENVER THIS AFTERNOON IN AMSTERDAM HE MAKES A SURLY STRESSED IMPRESSION

Is he tired after the many concerts he has given in England? Does he have an alcohol problem, as is whispered around. He says to me: "I have had a problem with alcohol. I have been treated for that a few weeks in a clinic. That therapy did me good. I've learned more about myself. I discovered who I am. This is a new beginning."

"The last few years were difficult for me. I divorced my second wife Cassendra last year. That pain is not over yet. Divorcing is something terrible."
He looks very vulnerable for a short moment. His whimsical attitude seems an armour to hide the pain, that is still there. The man, who wrote beautiful lovesongs like ANNIE'S SONG, wasn't lucky in love himself. "After fourteen years my marriage with Annie ended, for whom I wrote that song Annie. That was very hard."
"With Cassandra it seemed I was going to be happy again, but that marriage went over also. Thank goodness I still see my daughter Jessey from that marriage. She is eight years now. For her I have bought a house in Carmel, so I am close to her."

So love hurts for the singer of the romantic countrysong. Doesn't he have a new girl friend at the moment? "Talking about love is difficult for me", he says. "I don't give my self so easily any more. I have girlfriends, but I am cautious to bind myself again. But love is important in my job. It inspires me to write again."
As appears from his ANNIE'S SONG, that still is part of his repertoire. "I can sing that song now without being overwhelmed by emotions. It is a lovesong which can be written for everyone. I got the idea when I walked on my country-seat in Aspen en enjoyed the nature. I thought how happy I was and which big part Annie played in this happiness. I ten minutes Annie's Song was born."

Top of the world
JOHN DENVER was for years on top of the world, but the success faded in the eighties. "That was very hard. In that period also my father died. Those were sad years, but it was nothing compared to the hurt and pain from my recent divorce from Cassandra."
He speaks with respect about his father HENRY DEUTSCHENDORF sr., an American air force military man with German ancestors. "A very modest man", says John, who now shows more from himself for the first time. "He also learned me to fly. That was a wish from my childhood."
"Those hours together in the air gave a special bound between us. To impress him I have got my license to fly and maybe it was also the reason for my carreer to show him that I could do something."

JOHN DENVER does not want to talk about his alcohol problem. He says that he was hold up a while ago for drunk driving. "That case is still not over. I do not agree with the charges and can not say much about it, but it's different than people think."
Newspapers suggested that he had drunk so much that night, because he was hurt because of his devorce with Cassandra. He would have talked about it in a bar.
He doesn't react on that. He doesn't like to be reminded about it. He rather talks about the cd LOVE AGAIN, which now came out in Holland, with help from EDDY OUWENS, and which contains many of his hits.
LOVE AGAIN is a very appropriate title for the cd, because that's what Denver is asking himself after all disappointments. Will he ever really fall in love again? It seems like he is afraid of binding himself again.

Are those disappointments in love the price to be paid for being famous?
"You are of course a lot on the road. That's not good for your family life. It asks sacrifices. In fact I have started disliking travelling. It is so weary. The singing and performing, that I still enjoy always.But the travelling... Terrible!"

He makes a embittered impression this afternoon. Grumbles too, because this is his day off and I notice that the doesn't like an interview today. It is a conversation against his wishes, from which appears that the therapy that John Denver endured didn't make him more possitive or a happier human being. He is still in a process of digestion,as it seems, from his last divorce and the farewell to alcohol, that he drinks, as I was told, limited these days.

Denver could, if he wished to, withdraw in his coutry-houses. He owns many tens of millions. But there is still a force to perform. Maybe he feels happiest on stage, where he is in charge and can express his feelings.
As a privat person he keeps very closed. He has always been a man who was very much on his own. He never wanted to sign a new album contract after he lost his contract in the eighties due to decreasing interest in his albums. He still doesn't have a contract. "You can not imagine how frustrating that is. I haven't had a hit record the last years neither."

Message
Then a little more cheerful: "I never worked to create a hit. I always wanted to write good songs, which have a message in them. I was real lucky that I became so popular. The success comes and go in this bussiness. If you survive the bad times, the good will come back."
At the moment his is becoming more popular again, it seems a new generation has rediscovered him. For the first time a small smile appears. "Is that right?". But today he can not be real happy. The thought occurs that you better just hear this man singing. Where is the illusion about the positive singer, who love nature so much, does so much work for the environment, while his own inner feelings are a maze with a lot of weeds.
He says himself about his state of mind, that he has left a time of 'darkness of the soul' behind him. "There are so many things in us where we are afraid for. We think that if we face them, it will destroy us. Most of the times it goes back to your youth. Who am I? How in heavens name did I become this way? And how do I become a complete and honest human being?"
He believes that he has used his carreer as an excuse to escape unhappy times and experiences at home. "If you come home after a tour, where everyone was very kind to you, and you are confronted with problems, it is easy to go touring again."
He hopes to have found peace within himself no. A balance in his life.

But today I do not notice that yet. "He is not in a good mood" agrees the kind Dutch girl from his record company, "it was already like that when he arrived on Amsterdam Airport." And that is the understatement of the year. He is, I feel, just not good in his skin. Thank goodness his songs are still beautiful, but personally I rather don't listen to COUNTRY ROADS anymore when I'm in a file.
---
Photos by Jerry Kooyman
Concert in "Het Congresgebouw", The Hague, 30 March 1997.
Used with permission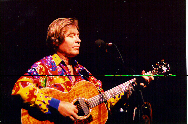 The fourth picture is also available in full screen format, see our list with recent updates.